The Solas 8® is a portable, four channel fluorescence detection system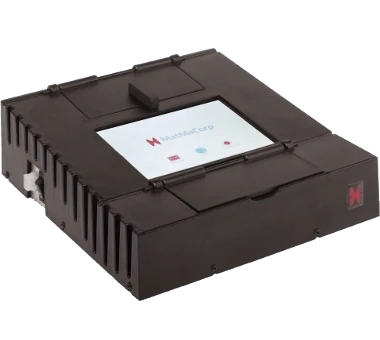 Developed by MatMaCorp, this device can be used in a laboratory, in the clinic or in the field. Easy to use, reliable and robust, the Solas 8® is two thermal cyclers in one intelligent device. The large well block is for DNA or RNA isolation and the small block is for detection of targets or SNPs using either isothermal or quantitative Real-Time PCR (qPCR) techniques. Both methods can be completely customized to fit your needs.
DNA or RNA isolation can be accomplished with either the MagicTip® DNA Isolation Kits or the StickE Column DNA Isolation Kits® and detection of SNPs or targets is done using MatMaCorp's C-SAND® Assays. Target detection can also be accomplished using 5' exonuclease type assays (eg. TaqMan® probes).
Selected Publications
Heaton MP, Bassett AS, Whitman KJ et al. "Evaluation of EPAS1 variants for association with bovine congestive heart failure." F1000Research, 2019, 8:1189.
Zurita M, Martignette L, Barrera J et al. "Detection of African swine fever virus utilizing the portable MatMaCorp ASF detection system" Transboundary and Emerging Diseases, 2021.
Craney A, Petrik D, Sukhu A et al. "Performance Evaluation of the MatMaCorp COVID-19 2SF Assay for the Detection of SARS-CoV-2 from Nasopharyngeal Swabs" Microbiol Spectr, 2021, 9:e00083-21.
General News